Media Education in the Sermon and in Bible Studies
I recognize that what I am about to share may be controversial for some. I acknowledge this reality because, in my own ministry, I have received a fair amount of criticism for introducing the use of multi-media into sermons and Bible studies. I do not intend to try and convince anyone to use multimedia in teaching God's Word if they, or the people they are called to teach, are uncomfortable with the idea. I would simply like to share my story and why using multimedia works for me.
"It's like the marshmallows and charcoal!"
I grew up as a PK and so my life was filled with home devotions, regular church attendance and parochial schooling. That said, I struggled for many years to appreciate fully the lessons taught to me and, even as a young Christian, to fully grasp and apply God's Word to my everyday life. To be honest, so much of what I was taught went over my head, or at least it felt that way. What I eventually came to understand about my learning struggles is that I am a predominantly visual learner. (I was also ignorant of the fact that research has concluded 65% of the general population falls into this learning style category).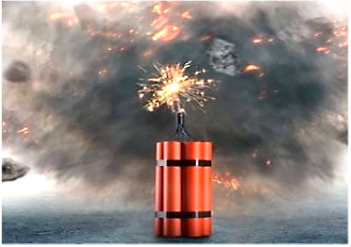 As I followed in my father's footsteps and became a pastor, I promised myself that when God blessed my wife and me with children, I would do everything I could to make sure they did not have the same struggles. Added to this heartfelt desire was the in-depth education I received in the biblical languages during my college and seminary training. Before that training I had no idea just how visual the Hebrew and Greek languages really are. For example, our English word for dynamite comes from the Greek word DUNAMIS, meaning "power, force" and can even mean "violence." Every time I come across this word in a text study my mind immediately pictures dynamite.
Though I had on occasion previously made use of object lessons in my sermons, it was not until the Lord called me to my present ministry that I more fully developed the use of multimedia for teaching. It began with ordinary objects I could easily find to make the point of any given text visually.
The pivotal moment for me came one day as my family was driving somewhere and my wife and I were having a discussion with my eldest son, who was in fifth grade at the time. He wanted permission to go and spend time with a new friend he had made at school. My wife and I were a bit apprehensive because we knew our son's new friend struggled with behavior issues, mostly due to his unstable home life. And so we told our son we were willing to let him spend time with his friend, but we wanted them to do so at our house rather than at his house. My eldest son simply could not understand why things had to be this way. We explained our reasoning over and over, as delicately as possible, to try and help him understand that we wanted to be able to control the environment for their interaction. Frustratingly my son was not grasping our concerns. We were at an impasse until my middle son, who I thought had been otherwise preoccupied with his activity book, revealed that he had been listening to this entire conversation. From the back seat of the vehicle he simply exclaimed for everyone's benefit, "It's like the marshmallows and the charcoal!" I almost drove the vehicle into the ditch because I was simply dumbfounded by the wisdom of his statement.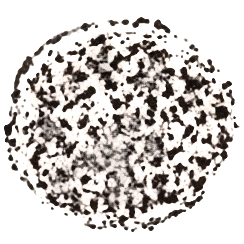 What I had forgotten was that approximately four months earlier I had preached a sermon on 1 Corinthians 15:33 – "Do not be misled: 'Bad company corrupts good character.' " For the application of that sermon I had used the visual of taking marshmallows (representing good character) and put them in the same bag with charcoal (representing bad character). I shook the bag and when I opened it up and pulled out a marshmallow it was covered in black dust from the charcoal. Not only had my third-grade son understood the lesson perfectly, but perfectly recalled the application of that lesson months later.
The journey to multimedia
As the congregation grew and my pastoral duties increased, I had less time each week to find the objects I wanted to use to visually reinforce the points from the text. So I slowly transitioned to using PowerPoint and videos for sermons in place of actual objects. Here a special word of caution is merited because I have seen some people use presentation software in ways I think are less than helpful. One should not simply import the use of multimedia from the business world. Overly complicated visuals (i.e. charts with too much information) and corny sound effects (i.e. "swoosh" sound or the "boing" of a bouncing spring) distract rather than reinforce.
As part of the journey into multimedia I was careful to do my research. Even I, as a visual learner, was surprised to discover that when an audio message is reinforced with visuals, the rate of retention increases to 90%. Several pragmatic factors also urged me on. Members with teenagers told me the multimedia sermons were now being discussed between them and their teens as they drove home. Previously silent teenagers were now asking questions of their parents and discussing the day's lesson. I also noticed that amongst our younger members (think preschool and elementary school age) who seemed otherwise distracted, whenever I played a video they would stop whatever they were doing and watch as though transfixed. Parents of these younger members related to me that though their youngsters seemed to be distracted, they were getting the point of the lesson as it was reinforced through the videos.
Pros and Cons
So now my typical sermon, delivered through a narrative enhanced via PowerPoint, helps me to explain the text in detail. With each lesson I tend to make use of three videos (not always, but often). PowerPoint affords me the ability to talk about biblical places and then show the congregation with a picture or a map. Or when there are difficult grammatical points to the text I love that I can put the actual word on the screen and walk the congregation through the thought process — e.g. last week's text from Acts 2:42 had a verb in the passive Imperative, a rarely used form which, properly understood, perfectly portrays both the Holy Spirit's and our role in sanctification.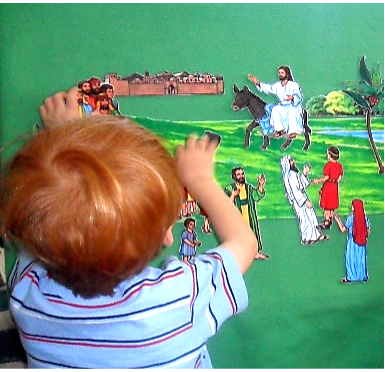 All this said, and since visual lessons can be quite powerful, great responsibility is demanded of us when we use multimedia. For instance, choosing graphics can be tricky, not only because we want to honor the fourth commandment and properly adhere to copyright laws, but we have to be careful to not overly influence peoples' visual perception and take their imagination out of the equation. But then this has always been true. How many of us have a picture of Jesus in our minds based on the stained glass windows of our church or the flannel graph pictures of our Sunday School years?
Caution is even more necessary in choosing videos, and this is where the main point of my article comes to bear. Though multimedia is useful for our biblical teaching, it is not for everyone. I have been fine-tuning my process for twenty plus years now. So, if you are thinking of introducing or increasing your teaching through the use of multimedia, especially in sermons or Bible studies, let me offer a few insights especially when using video.
As with graphics many videos are governed by copyright laws. In using such videos we must follow the Godly principle of paying for the work of others (we actually have a line item to help cover these cost in our church budget). There are several religious sites where membership, usually $15 to $20 dollars, provides affordable videos. There are also many non-copyright videos available on Youtube and Vimeo. Most of these have been produced by other churches and, unfortunately, include aspects of decision theology. Time and effort is needed to edit them appropriately. My personal wish is that we could have more video options from Lutheran sources.
There is also the matter of how to use videos because there is the risk of having too much multimedia content or incorrect visual content. As I mentioned, I tend to use three videos per sermon: one as part of the introduction, one as part of the conclusion, and one about half-way through the sermon as a means to reinforce a specific point of the overall lesson. The middle video also helps the listeners to "catch their breath" mentally. One of the challenges I find with today's members, especially the younger members, is that attention spans are growing shorter (we can thank TicTok and Youtube for this new challenge). But properly used, a video can either reinforce or re-educate something in the text much in the same way the liturgy reinforces and re-educates us each week in the truths we glean directly from God's Word in the sermon. A video should never be used just to be cute or trendy.
Teach like Jesus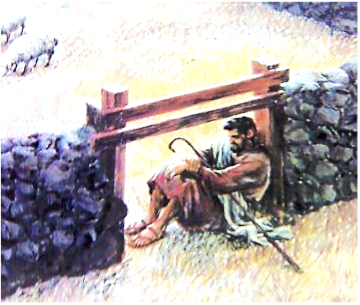 My final point about using multimedia in the sermon or Bible class is to remember that none of these things enhance the power of God's Word, just as the sound of a pastor's voice does not make Scripture more effective because his voice is nice sounding. But in our sinfulness we can get in the way of the Word of God if we are not careful. Caution is necessary no matter which teaching techniques we use so that we do not distract from the inherent truth. Multimedia cannot replace proper text study and a well written sermon or Bible study. But since God Himself knows the design of the human mind He has created, it only seems sensible that we take a page out of His book as to how He Himself chose to teach. Besides the very visual aspect of the biblical languages, Jesus Himself made use of visuals in so many lessons He taught. He didn't do so to be cute or trendy. He did so to help the people understand the deeper truths of His Word — e.g., "The kingdom of God is like a fishnet, I am the gate, it is easier for a camel to go through the eye of a needle…". We also see the wisdom of God in delivering to us two-thirds of the means of grace with a visual component as well.
Of course, Jesus is perfect and used visuals perfectly. We can only hope to emulate His teaching techniques. But with great care and discretion we can help students of God's Word to see more clearly exactly what the Holy Spirit inspired biblical authors to record for us, both for our salvation as well as our lives of sanctification.
---
Translate this page into your language
Return to original language with "show original" button at top left.