Images of Grace
Bible Illustrations for Zambia
A partnership of Bethany Lutheran College and WELS Multi-Language Productions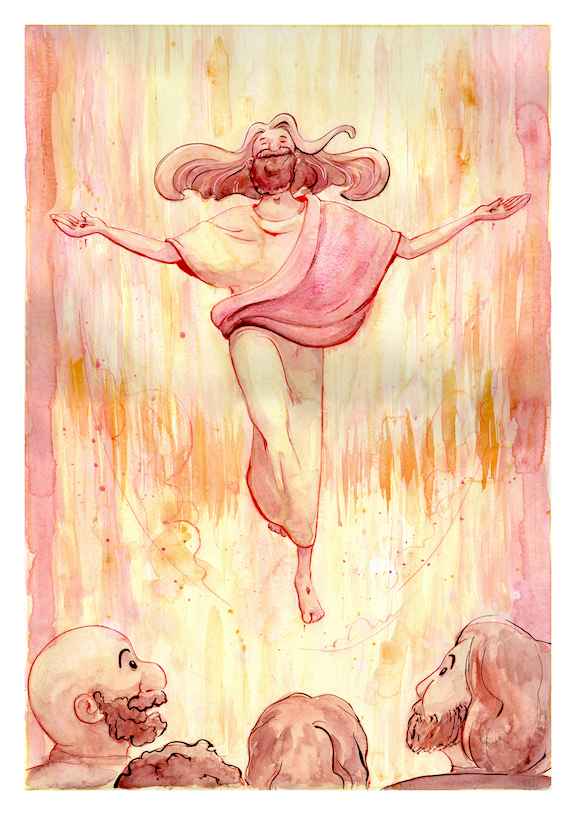 JESUS' ASCENSION by Maida Jaspersen
The world God built is a visual one. The giant backdrop of our days — the sky — is a ridiculously brilliant blue. In the summertime, every color in the crayon box can be considered an earth tone. The very shade of your hair changes in the sunlight. God reveals his love to us through our sense of sight. Unfortunately, our Wisconsin Evangelical Lutheran Synod (WELS) missions are not yet well enough equipped to communicate with this visual language.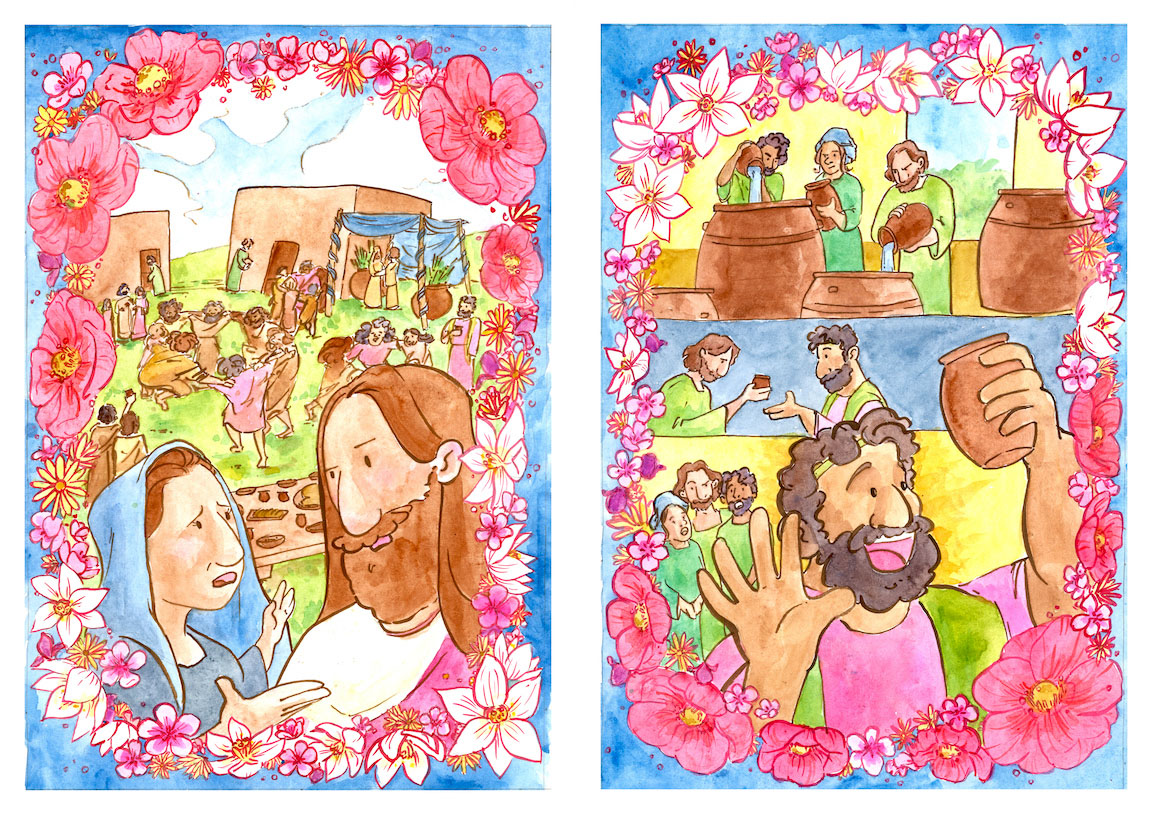 WEDDING AT CANA by Maida Jaspersen
The WELS has built up an extensive repertoire of wonderfully written commentaries and devotionals; however, these operate under the assumption that they can be consumed and understood by an educated, literate audience. For the people of Zambia (and many other countries), these are not accurate assumptions. This means that a written translation into the native language would not be beneficial for many. Not only do we need resources for introducing God's grace into the lives of many, but also for their continued education. The congregations in Zambia want to learn more about the Bible, but most members cannot read it for themselves.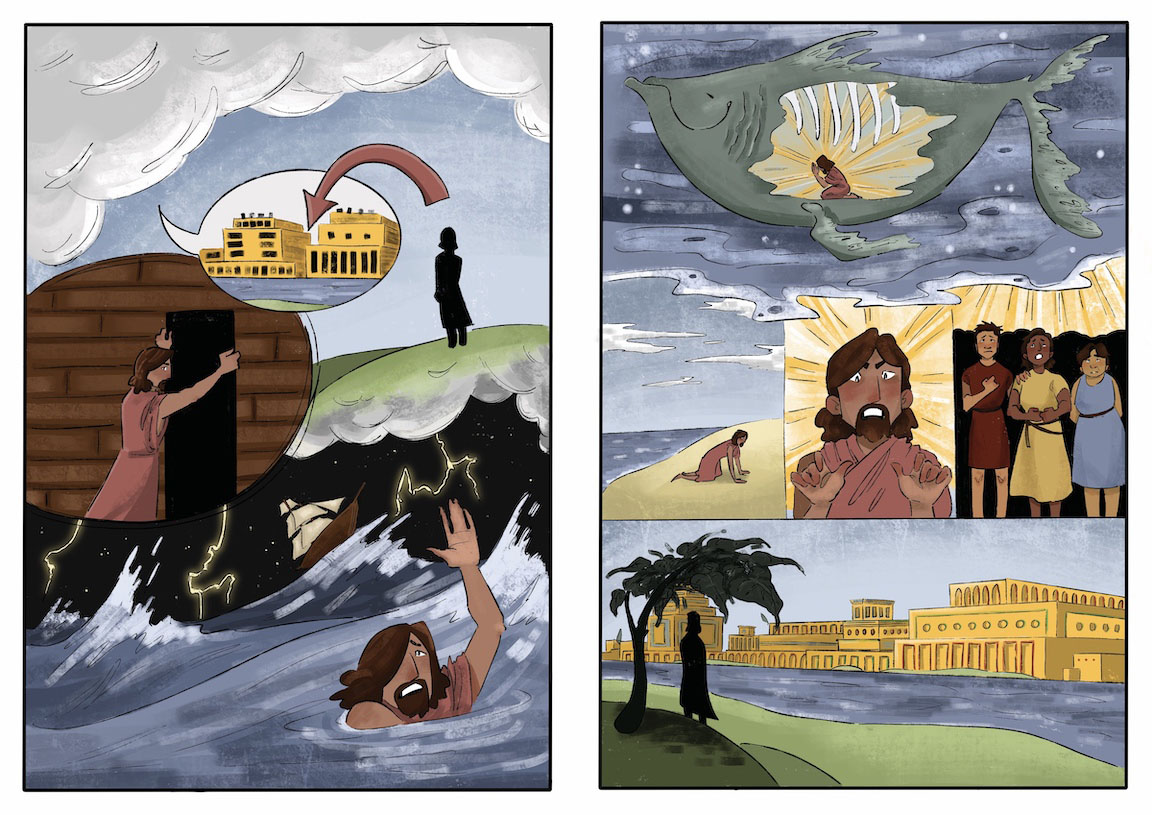 JONAH by Lydia Kratz
Pastor Terry Schultz quickly recognized this issue and sprang into action. Terry is the Artistic Development Missionary for WELS World Missions (what an incredible title!), and in the final weeks of spring semester 2022, he assembled a team of artists to create engaging Bible story comics. As one of these artists, I can say the energy in the room that day was bursting with fervor for the gospel! When we had our first official meeting, it was clear that everyone involved was passionate about using their gifts to glorify the One who has given them. The phrase "Here am I, send me!" played on repeat in my mind.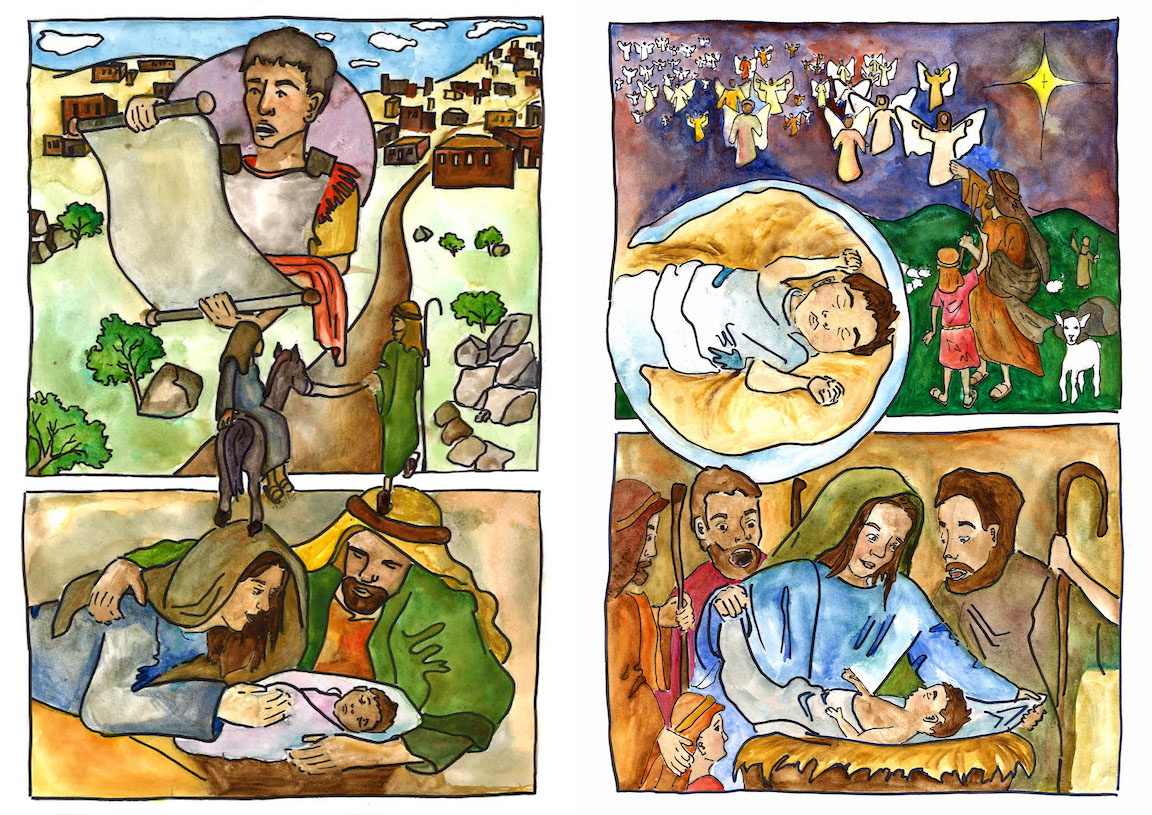 BIRTH OF JESUS by Abby Nelson
The content of these comics stems directly from the Sunday School curriculum. Each set of comics is planted firmly in Scripture. Biblical passages are used alongside other resources for costume and environmental reference. In this way, artists strike a balance between captivating storytelling and historical accuracy. With a sturdy foundation, the gospel is clearly communicated in the universal language of images.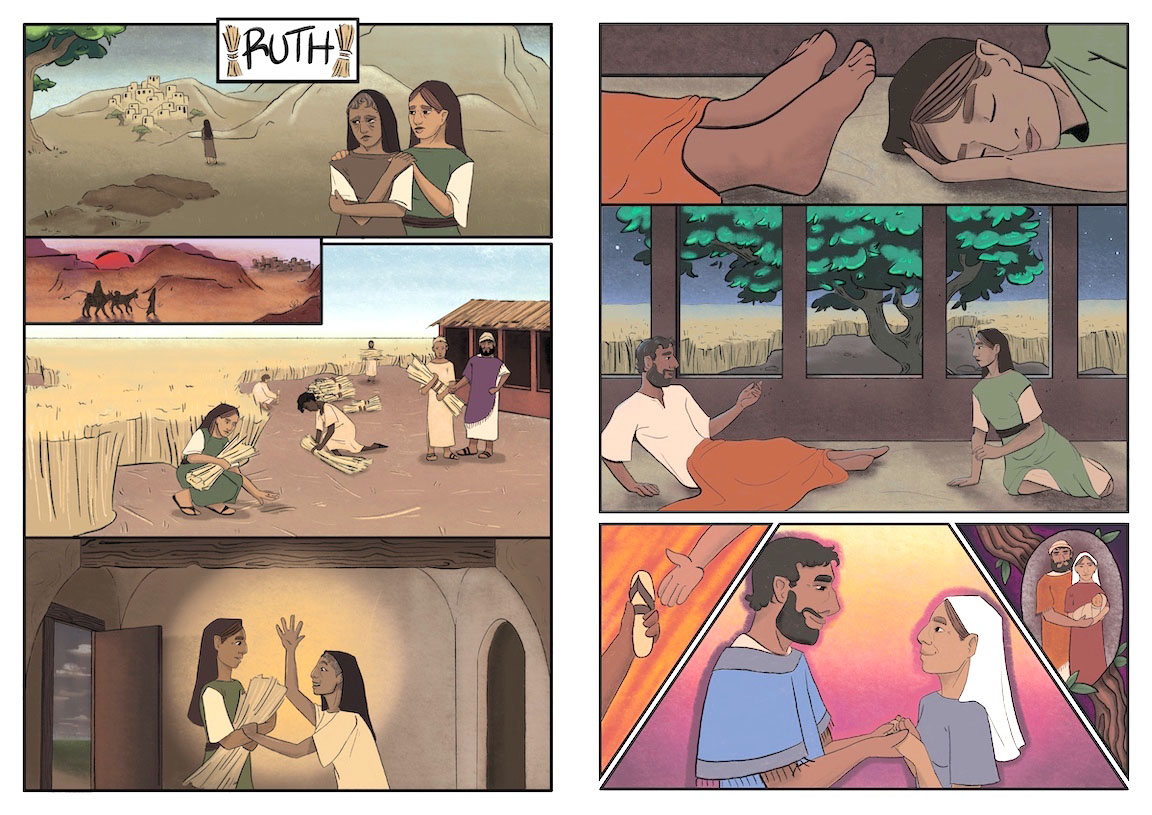 RUTH by Holly Harris
While each artist uses different media, they all follow a similar process. Each set of illustrations begins with research. Closely reading the Scripture passage, as well as Werner Franzmann's Bible History Commentary, ensures accurate storytelling. Then, based on the content, artists generate thumbnail sketches. Thumbnails are small, rough drawings meant to capture the composition of the image. They are not careful, they are not detailed, they are simply a tool for surveying the options an image presents. Page composition is an important part of visual communication; artists must strike a balance between both functional and pleasing-to-look-at. Each page has around three main images used to tell the story, but these images can be laid out in many different ways. For example, in Ruth, the events are divided into boxes, a convention of comics. In contrast, the story of David and Goliath allows moments to flow into each other.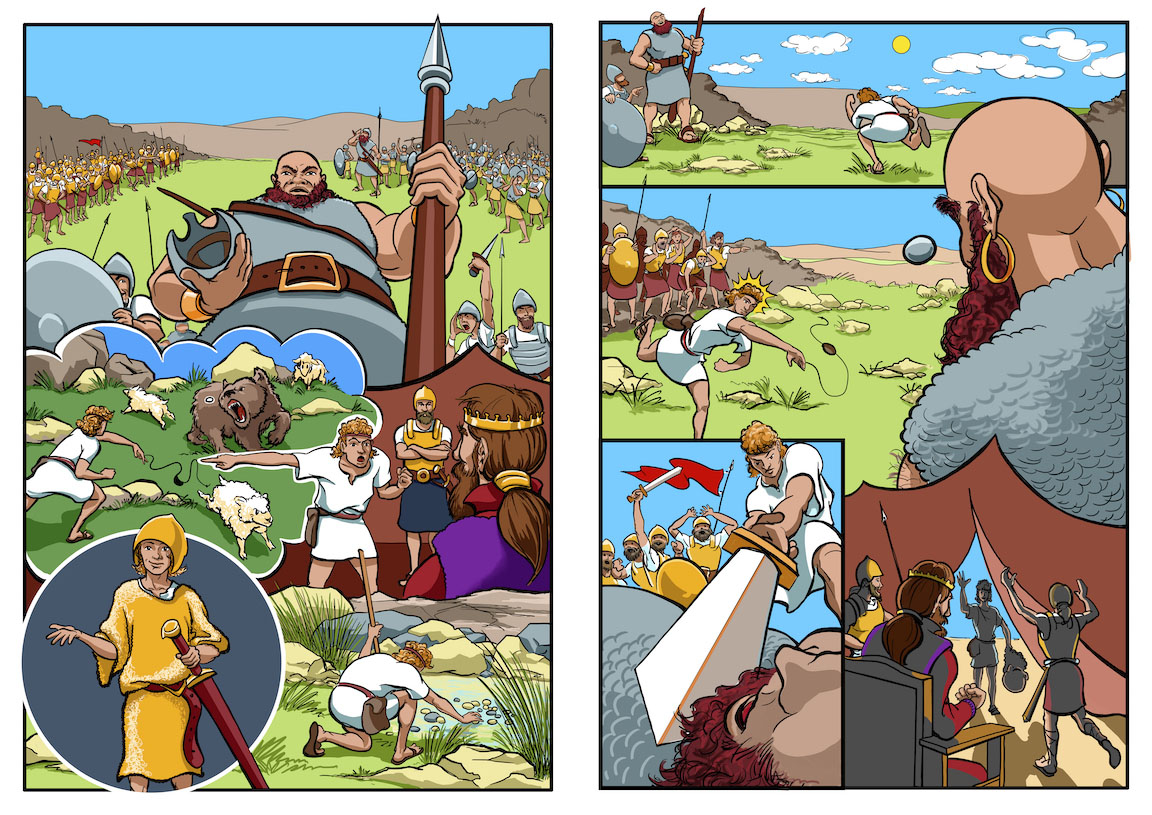 DAVID AND GOLIATH by Andy Overn
After the planning stage, different workflows begin to emerge. Many of the artists work completely digitally. Personally, I work on paper. After sorting out my thoughts using thumbnails, I draw everything in pencil on a sheet of A3 size bristol board. This sketch must gain approval before I move on to the next stage: inking. I tend to ink my illustrations with a brush and India ink, however, my process is never set in stone. If the image calls for a harsher tone, like Pilate Condemns Jesus to Death, I will adjust. In that case, I inked with a dip pen for a sharper feel. At this stage, I scan the pages to turn them into coloring sheets. Then I move forward adding my own color. For a majority of the illustrations, I started with watercolor and eventually layered on colored pencil. Again, there are exceptions. No matter the medium, each set is produced in full color and also as a black and white coloring page.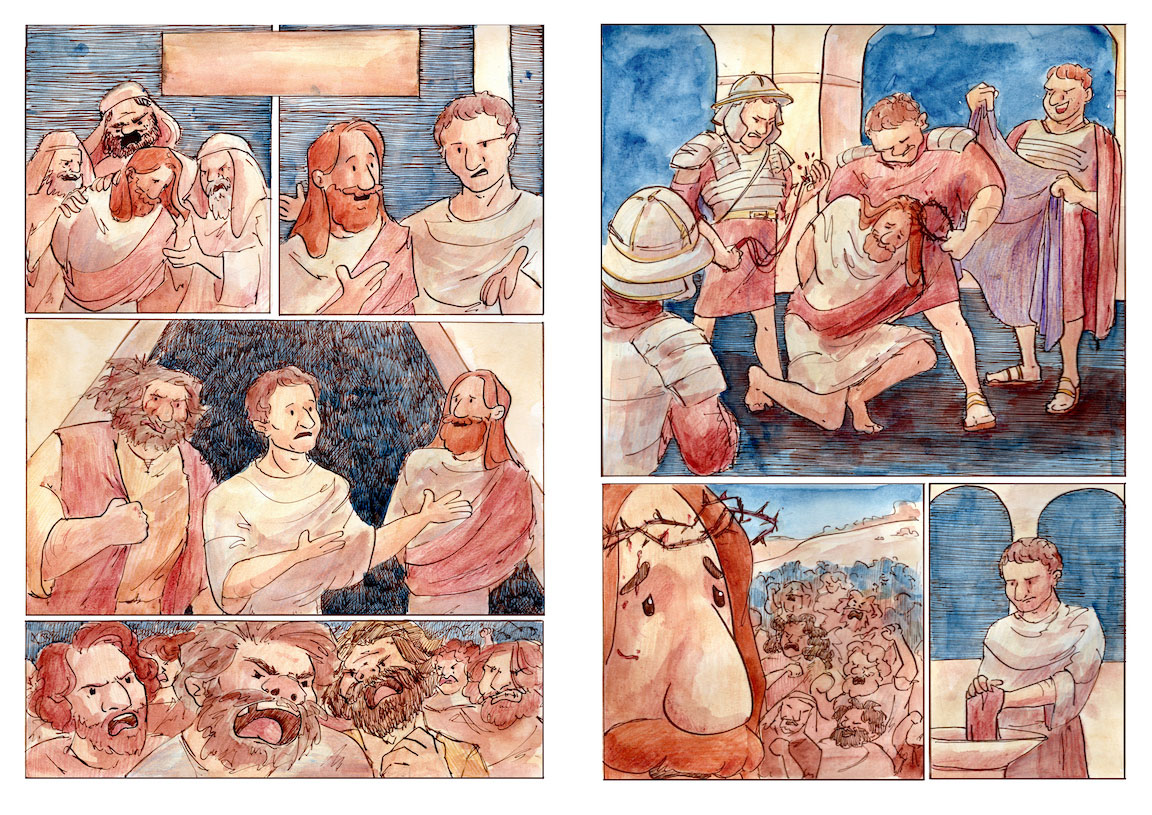 PILATE CONDEMNS JESUS TO DEATH by Maida Jaspersen
The differences in both artistic and storytelling styles is an incredible strength of this project. However, it has the potential to create quite a bit of confusion. What if each artist depicts Jesus differently? From a viewer's perspective, a character whose appearance changes from comic to comic could be interpreted as an entirely different character. To combat confusion, artists produced character designs for individuals who appeared in more than one Sunday School lesson. I had the honor of designing the appearance of Jesus. While we do not know exactly what Christ looked like, we do know he was from Nazareth. I sketched many middle eastern men as potential Christ likenesses; however, the church in Zambia specifically requested a Caucasian Christ. It is an issue of previous exposure. He had to fit the commonly recognized image of Jesus. As I moved forward in this direction, I was determined to keep Jesus as friendly looking as possible. Most of the character design process is about revealing the internal aspects of a character in their external appearance. His beard, long hair and red sash help viewers recognize him as Christ. But his rounded nose and smiley mustache give him an eternally affectionate quality, as loving as the gospel message.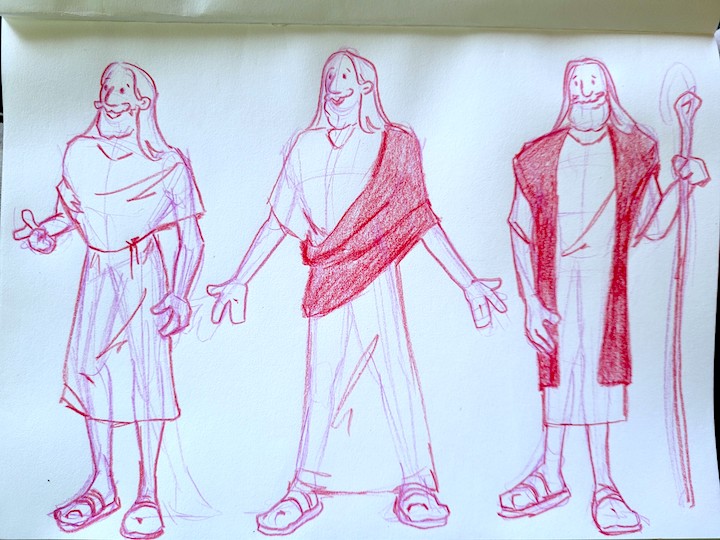 JESUS SKETCHES by Maida Jaspersen
Thanks to low costs for printing, lamination, and shipping, the illustrations will be distributed to congregations all over Zambia. They will act as visual aids within Sunday School classrooms. The ability to visualize the individuals described in Scripture and the environment around them creates a strong connection. In addition, students will be able to spend time with the images as they color them. This extra time used to look at the illustrations is intended to lead to a deeper understanding or a stronger personal connection to the events depicted. From the beginning, their purpose has been classroom instruction; however, they hold great potential for many ministerial environments.
THE YOUNG MAN AT NAIN by Faith Belt
It has been an incredible blessing to combine my faith with my God-given skills to create these illustrations. I hope that the comics will help many Christians plant and nurture their love for God.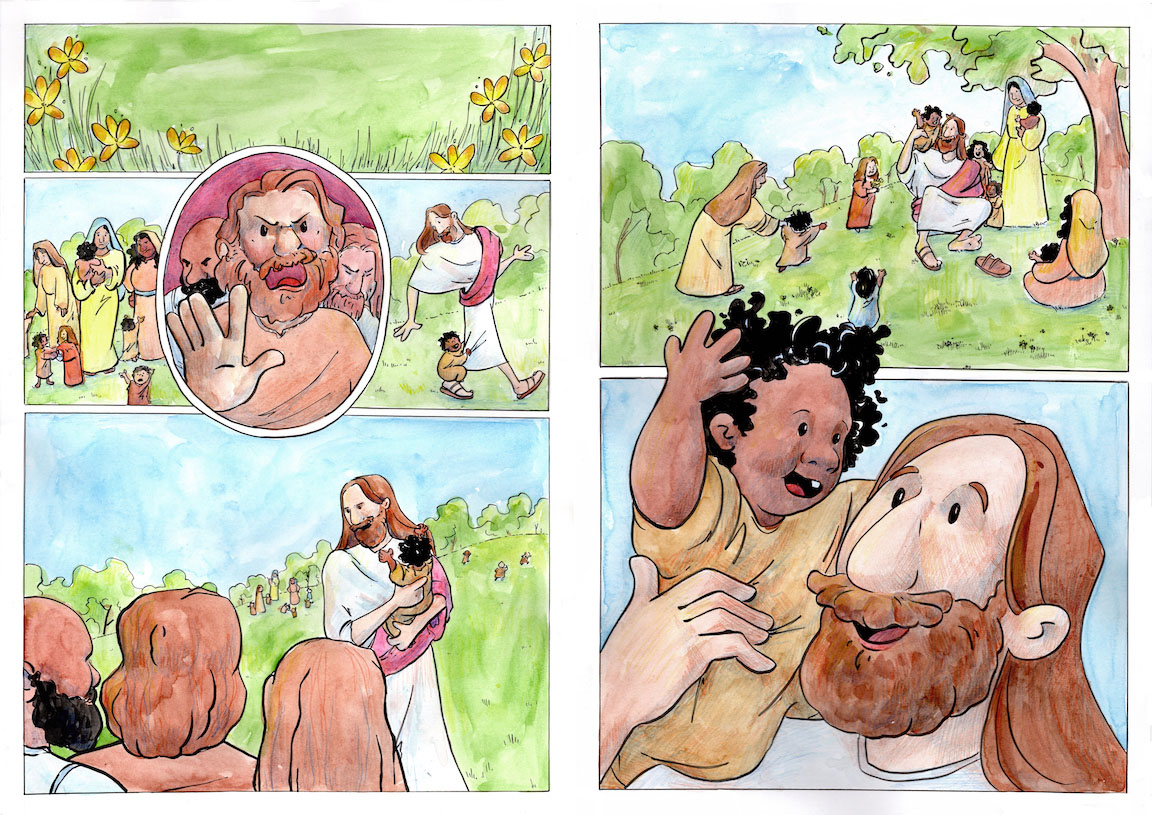 JESUS AND THE CHILDREN by Maida Jaspersen
[Here is a link to a four-minute video made at the "Images of Grace" exhibition at the Ylvisaker Fine Arts Center at Bethany Lutheran College.
Here too is a link to the entire hour-long gallery talk on that occasion. ]
---
Translate this page into your language
Return to original language with "show original" button at top left.